Page 3 of 3 •

1, 2, 3

First topic message reminder :
Anyone is free to join an Official Roleplay. Though, they're to be regarded with high expectations. Your posts should be
3-4 sentences
long and contain
proper grammar
and
benefit the story line.
By doing so, there shouldn't be any confusion on what somebody is trying to do or contribute. There is no God-Modding (Using another players cat or killing someone off). This is simply not allowed and you won't receive a warning. With that said, you'll receive warnings if you don't contribute properly. If you continue to do so, you'll be banned from the roleplay and unable to participate. Other than that, be nice (Or rough when necessary) and happy roleplaying!
I'll be participating and monitoring the roleplay. Throughout, I'll also be given alerts and changes that effect the roleplay. Be on the look out!
-Hazelstar
-----------------------------------------------------------------------------------------------------------------------------------------------------------------------
Rotten
*Not for the lighthearted

*
      Leaf-bare was coming to an end among the clans and the smell of Newleaf was in the air. The cats were happy, prey was becoming abundant once more and greencough outbreaks were low among all the clans. The half-moon trip was coming for the medicine cats and most were eager to go. There was just one problem. Among each clan, through ThunderClan to SkyClan, lay a sickening cat. Just one, so the medicine cats weren't too worried. It was probably just one last hit of greencough before the newleaf. Though as the days went on, counting to Half-Moon, the sick cats weren't reacting to the regular pulp that was given to greencough patients. In fact, they were declining. Each original sick cat was declining in strength and spirit. To the medicine cats, this was frightening, they were doing all they could to save them and all they were doing was watching the cats die at their paws. Something had to be done.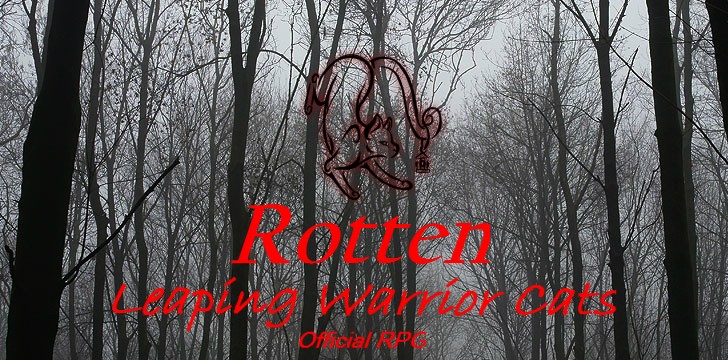 Once the medicine cats had their meeting at half-moon, all the sick cats had passed away, along with other cats in the clan doomed to the sickness as well. At their deaths the medicine cats did their best to make the cats look healthy and well, just as they had weeks prior. One medicine cat noticed something peculiar about the deceased cat. While cleaning their belly fur, something was
moving
inside their abdomen. Curiosity ached as the fur itself ruffled and moved when clearly the cat had passed away. Reluctantly, but for a good cause, the medicine cat made a small incision with a sharp stick along the cats belly. It was small enough not to be seen so nobody should get upset that she was tampering with their body. Instantly, a rotten air filled the den, and the medicine cat couldn't help her sudden onset of coughs. She convulsed at the rotten stench and regretting her decision to even inspect what was going on. When she got her composure (Which consisted of holding her breath as long as she could and stepping away to breath frequently to help from breathing in the stench), she probed the belly with her stick, hoping to figure out what was causing the cat's stomach to move. With each prob, a little would ooze out of the incision. A mixture of yellow and brown that certainly didn't help with the stench. Giving one last prob as she felt she was getting no where with this, came out a small insect. Or was it an insect? It was yellow, and squirmed like a worm along the forest floor. The medicine cat watched in horror as it wiggled itself back to the cats pelt, latching itself onto the skin and eating its way back inside with his friends.
The cats were getting eaten alive!
She knew she had to share this with her fellow medicine cats because she felt like she wasn't the only one experiencing this horror. Covering the mucus and hole with some dirt, she continued her job to clean the cat, flinching every time she felt a movement.
What was she going to do?
Clan Map :

Current Time:
It has been a full moon since the first cats have died. The medicine cats of every clan are aware of the problems and are searching desperately for a cure. Each clan has a handful of cats infected, all of them dying within a couple weeks or so and each appearing with the same active stomach after death, some while they're alive. There has been rumors among the clan and StarClan that there's a special herb called HooDoo that once created into a pulp and eaten, will cause a chain-reaction and killing all the worms inside the cats. The herb is said to be found up in a snowy mountain cave, East of where the clans lay now. Problem is, should the clans work together or go separate to find the herb? It's up to you!
Happy Roleplaying!
Last edited by Hazelstar on Thu Mar 10, 2016 7:16 pm; edited 1 time in total
---
As I looked at Redclaw, I realized she was looking at me in concern, which frightened me. Did I do something Drizzlestar doesn't approve of... I thought in worry of something delaying or stopping me from taking my first trip to the mountains. I realized it was just her worry ab sickness and the problem at hand so I relaxed. As mentioned Wolfclaw coming, I looked at Drizzlestar, wondering what she would say. Three, or at the least two, cats per Clan seemed like a reasonable number to me, but that was up to Drizzlestar to decide. The problem was that some Clans didn't have enough warriors who were healthy enough to go on a journey like this. I flicked my tail in frustration. Stupid sickness! Why can't the Clans live just one day without worry! This problem was becoming a tick under my pelt, and was starting to truly affect me. StarClan be with us! I hissed under my breath.
--------------------
Smell ya later nerds! 
( ͡° ͜ʖ ͡°).
Da Quotes
"I'll spoon out your eyes."
"I'll shove a crayon up your brain."
"I'll carve out your organs with a battle axe."
"I'll sit on you and break your rib cage."
"It's da birdilar!"

Ravensky

Moderators





Posts

: 128


Join date

: 2016-02-06


Age

: 14


Location

: On the greatest planet on Earth. ( ͡° ͜ʖ ͡°)



Ravensky looked frustrated. Probably with the sickness. I wondered if suggesting that Wolfclaw came wasn't a good idea. As she looked at Drizzlestar, I wondered if dipping my head had been such a good idea. But when Drizzlestar said she could go, that surely meant that she could choose who came with her! Right. It that was the case, then she was now in charge if I wanted to come. I hoped that I was right. Otherwise, I just made a big fool of myself.

Redclaw




Posts

: 63


Join date

: 2016-03-04


Age

: 15


Location

: wandering.



I hopped that Ravensky said yes. I really wanted to go to the mountains. "I would like to go, if its ok with you." I said. Redclaw looked nervous. I hopped we all got to go. that would be awesome!

Wolfclaw




Posts

: 8


Join date

: 2016-03-20


Age

: 11



(I got time for a quick response!!!)

I gulped. The cats were looking at me as if I would decide who would go. I left the wrong impression asking first thing. What do I do now? I thought quickly. Then I started to speak. "It's Drizzlestar's decision, not mine..." I said to the sisters staring at me. I was getting a bit uncomfortable and was hoping Drizzlestar would see this and help. "I'm going to get fresh-kill." I said and padded off...
--------------------
Smell ya later nerds! 
( ͡° ͜ʖ ͡°).
Da Quotes
"I'll spoon out your eyes."
"I'll shove a crayon up your brain."
"I'll carve out your organs with a battle axe."
"I'll sit on you and break your rib cage."
"It's da birdilar!"

Ravensky

Moderators





Posts

: 128


Join date

: 2016-02-06


Age

: 14


Location

: On the greatest planet on Earth. ( ͡° ͜ʖ ͡°)



I'm locking this due to lack of activity, thank you to everyone who participated!
--------------------
Hazelstar, Owner
Bluecoats, Tilt 2:25:
Page 3 of 3 •

1, 2, 3

---
Permissions in this forum:
You
cannot
reply to topics in this forum